Court Jester, surely you jest..
This piece was created based on the one and only nightmare I had as a child that actually succeeded in scaring me. In the dream My brothers, my sister and I were being chased by this woman who was wearing a black white and red jester outfit with a mirror and a mask reflection as a head. when my brothers parted ways from my sister and I the Jester took one look at me and started after me intentionally. I proceeded to throw a rock at her face, making her shatter into glass fragments. I never could forget that dream.
Mask, acrylic & ink on wood
Sold.
A Sight to See
This piece is one of four parts of my childhood self portrait. I chose to work from a photograph of myself. One thing that was prominent for me during my childhood was my red pair of glasses. A Sight to See reflects my view of things as a child. .
Mixed media on Wood
10in x 10in
contact for pricing
Kim
This is an enlarged photograph of me as a kid in either kindergarten or first grade. I was excited that day because I had always wanted to be picked for student of the month! I chose this picture because it captures the essence of my happy days of childhood. THIS is what I cared about. This is Kim. If I remember correctly, this was the first and last time I was chosen.
Photograph and Acrylic on wood
18in x 24in
not for sale
Difference
Description coming soon.
Oil pastel on wood
16in x 16in
contact for pricing

Welcome to The Garden
The title piece and the one in which the entire series revolves around, Welcome to the Garden is a visual rendering of my childhood home. I grew up In Vanderveer Estates, now more aptly named Flatbush Gardens. It is located at the cross sections of Foster avenue and New York Avenue, In Brooklyn, NY. During my final year at LIU, I kept having this recurring dream where I am jumping into a red jeep with strangers and we are speeding away from the neighborhood. As we leave, the place is consumed by this thick fog. the further away we go, the scenery begins to change, morphing into this jungle environment. The buildings become abandoned, covered by moss and vines and we become lost. I start to panic and I retrace my steps back to the neighborhood. as I get closer, the scenery is changing back to normal. But, theres this one point where I see Vanderveer, with a jungle backdrop. I start to think, Ive returned for something. I just don't know what.
Wood, watercolor, Ink, wire & carborundum on wood
12in x 48in
contact for pricing
Knock First
Knock first represents a dream I had while creating this series. As i got deeper and deeper into my childhood, I had this dream where I was walking across the street in my old neighborhood and I saw this big red object sticking out of the ground in the grass area. upon closer inspection, I realized that it was a giant red door, halfway buried in the ground. I started getting a bad feeling about the door, so I hurriedly walked away. When I woke up, I looked up the meaning of red door online and found this: "Dreaming of a red door refers to either anger or passion that you are keeping locked up within yourself." Go figure.
Acrylic, Ink & Gouache on Wood
12in x 16in
Contact for Pricing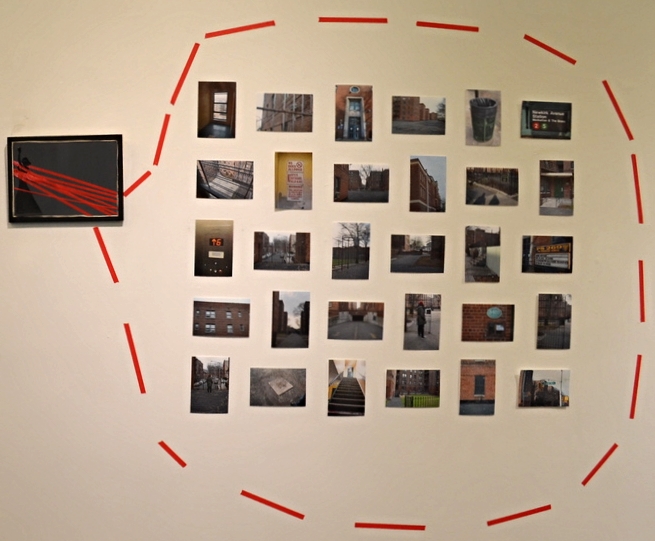 Pulling me back, Keeping me here
Description coming soon.
Acrylic, tape, paper on wood and Photographs
not for sale
Pieces of her
This piece proved to be the most emotional and symbolic of the 4Blocks: Welcome to The Garden series. The process of cutting paper and gluing them back together in this mosaic form felt eerily as if I were actually putting the pieces of my childhood together again. Growing up, Ive always said that I never really had or experienced childhood. Ive always been older than I was supposed to be. At the completion of this piece, I broke down and cried like i never had before. It really was as if a huge weight had been lifted from my shoulders.
Paper on wood
contact for pricing
Show me your stripes
Show me your stripes represents my feelings of being called a white girl in a black girls body. Growing up, this statement of telling someone that they acted "white" was used as an insult. Some people ostracized others who acted white or out of the norm of being black. I of course was bullied intentionally and incessantly for this. being labeled as somewhat a freak of nature.
Acrylic and paper on wood
not for sale